Australian Lighthouses....Wollongong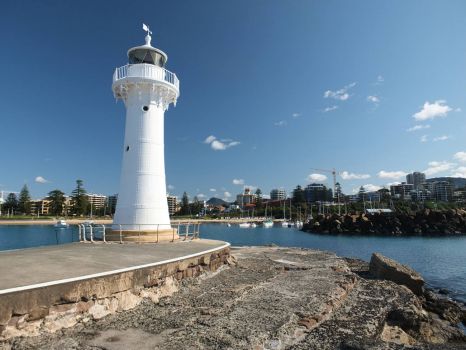 Why are you reporting this puzzle?
Built by the Department of Shipping and Transport in 1936 to guide maritime traffic into Port Kembla Harbour located to the south. It was not only the first new lighthouse in New South Wales since 1903 but also the first to install fully automatic flashing lights. The tower is constructed of reinforced concrete to withstand the strong winds and splashing waves where it stands on the eastern side of Flagstaff Point.

The light is coloured white and red. White with a 4.5 second duration is visible through 100 degrees, while red is visible through 80 degrees. The latter indicates the presence of shallow water. Three 68 pounder cannons (now defunct) were installed near its base in 1879 to repel any possible attacks by the Russian navy. It finally became the sole functioning lighthouse at Flagstaff Point when the old Wollongong Lighthouse situated only a few hundred metres away on the Belmore Basin to the north was discontinued in 1974.