Pinball Hall of Fame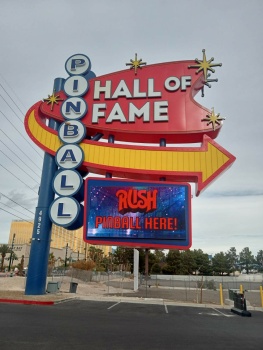 Why are you reporting this puzzle?
Located at 4925 Las Vegas Boulevard South, in Las Vegas, Nevada, The Pinball Hall of Fame is an attempt by the members of the Las Vegas Pinball Collectors Club to house and display the world's largest pinball collection, open to the public. A not-for-profit corporation was established to further this cause. The games range from 1950s up to 1990s pinball machines. Since it is a non-profit museum, older games from the 1960s, 1970s and 1980s are prevelant, as this was the 'heyday' of pinball. There are no 'ticket spitters' here (aka kiddie casinos or redemption). It's all pure pinball (and a few arcade novelty games) from the past. And since it's a non-profit, excess revenues go to non-denominational charities.

I like to visit this establishment as often as I can. There are a couple of machines that are my favorites (The Addams Family from 1992 and Twilight Zone from 1993), but I have been known to spread my quarters around to some other machines. I took this photograph on New Years Eve 2022, on a quite cloudy and overcast day.
What is the filter for?

Some puzzles are shown behind a filter. These puzzles are within our guidelines but still is material of which some will take great offence. Read more about the reasons and workings of the content filter and how you can set your account up to either see or not see puzzles that are shown behind a filter.