Momma Goose and her little one ~ Lake Morton Pic #1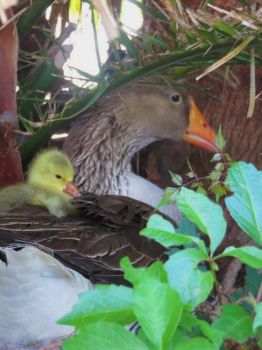 Why are you reporting this puzzle?
Our City has a very popular attraction ~ the "Duck Lake". There actually are Ducks, Swans, Geese, Egrets, Storks, Pelicans and other birds and water fowl.

The geese population has been dwindling at the lake. People have been stealing the eggs. The lake cameras are only on the swan nests. With the lake being blocked off for 6 weeks due to Covid-19 and restrictions, the eggs have been protected. It is a rare sight to see a Gosling. The city says this is the first time in years to see Momma Goose with her little one. They are well protected by the city. We zoom in with our cameras and keep a safe distance. At least 6 feet!!!
Are you curious about how do we review content on Jigidi?

At Jigidi, we celebrate what connects us and steer clear of divisive content because how we meet each other matters. It forms us. When we review the content, we use four 'lenses' and look for what the image or comment is most.