Wine taste chart - Pinot Noir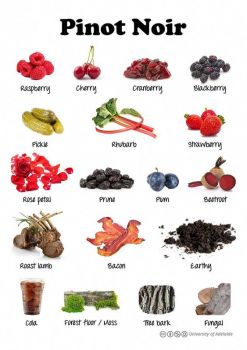 Why are you reporting this puzzle?
Pinot Noir
Classically this grape is used to make wine, and though the Burgundy region in France popularized it, growers all over the world now cultivate this vine. Lately, good samples are coming out of the Willamette Valley in Oregon and the Russian River Valley in Sonoma County, California.

You find this thin-skinned vitis vinifera in tight clumps of deep purple fruits. "Pinot noir has flavors and aromas of ripe cherry, wild strawberry, earthiness and caramel," says Dreaming Tree winemaker Sean McKenzie. This is the profile you find in both the raw fruit and wine, which is why these grapes have such a following. You may also detect rose, black cherry and currents.

They grow All over the world but mainly in France, Oregon, New Zealand and California.