This Subaru commercial featuring a Lunch Stop is back and giving us all the cuteness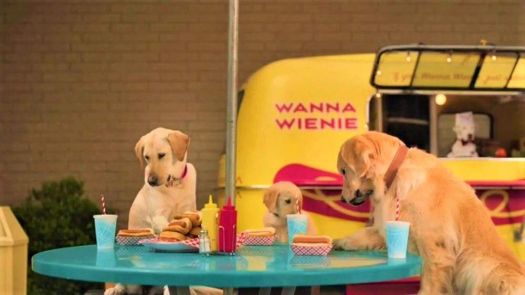 Why are you reporting this puzzle?
From an article by Kimberley Spinney at the website Dog of the Day.

"Subaru brings the cuteness with this 2019 commercial"

Is anyone else obsessed with the Subaru commercials featuring the Barkley family? (Also did you know that the dog stars were officially known as the Barkleys?!) We definitely are, and recently we were treated to the return of one of our favorite commercials from 2019, the "Lunch Stop."

In August of 2019, the car company released a new commercial featuring the Barkley family making a stop for lunch. And what was on the menu? Hot dogs, of course. The problem is that our furry family doesn't get to enjoy those hot dogs from the Wanna Wienie Stop.

The reason the Barkley family is blocked from hot dog enjoyment comes from the adorable Wiener dogs who appear just in time to make them feel guilty over indulging in a meal inspired by the Dachshund! As Ohmidog.com pointed out last year when they wrote about the commercial, it's hard to enjoy a hot dog when you have Wiener dogs silently (and not so silently) judging you.

Subaru's adorable "Lunch Stop" commercial is back

So what does this have to do with 2020? Well, it seems that Subaru has brought this adorable commercial back into rotation.

While watching the latest episode of "Stargirl" on The CW, this commercial popped up and reminded us that this was a thing, and we have never been happier. Honestly, before this commercial aired on July 7, I had forgotten all about it. And that can't happen! Seriously, this is one of the cuter commercials that Subaru has released.


[Slightly edited for spelling and punctuation.]


About the website:

"Welcome to Dog of the Day, the Dog Pics news and opinions site brought to you by the FanSided Network. Dog of the Day is dedicated to providing top-notch Dog Pics news, views, and original content. This site also serves as a community for like-minded fans to come together to catch up on the latest news and to discuss their passion."
How do you follow a puzzle creator?

Do you have one or more jigsaw puzzle creators on Jigidi whose puzzles you are always looking for? Then you might consider "following" them, which means you'll receive a notification upon their newest postings.