A thought for today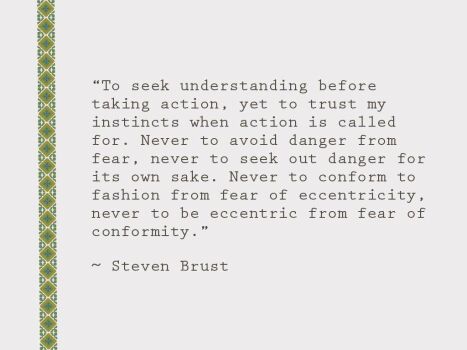 Why are you reporting this puzzle?
"Steven Karl Zoltán Brust (born November 23, 1955) is an American fantasy and science fiction author of Hungarian descent. He is best known for his series of novels about the assassin Vlad Taltos, one of a disdained minority group of humans living on a world called Dragaera. His recent novels also include The Incrementalists (2013) and its sequel The Skill of Our Hands (2017), with co-author Skyler White.

"As a drummer and singer-songwriter, Brust has recorded one solo album and two albums as a member of Cats Laughing. Brust also co-wrote songs on two albums recorded in the mid-1990s by the band Boiled in Lead." ~ Courtesy of Wikipedia: https://en.wikipedia.org/wiki/Steven_Brust
Are you curious about how do we review content on Jigidi?

At Jigidi, we celebrate what connects us and steer clear of divisive content because how we meet each other matters. It forms us. When we review the content, we use four 'lenses' and look for what the image or comment is most.