Great Sandhills, Saskatchewan, Canada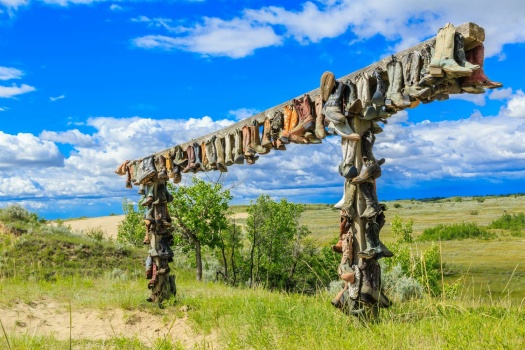 Why are you reporting this puzzle?
Now, this raises a couple of questions, doesn't it? 
This is a memorial to the late caretaker of the Sandhills Stockman's Association (1950 – 2007), John Booth, who gets this honor for how he took care of the area. You'll find the memorial at the entrance to
the Great Sandhills in Saskatchewan, Canada
.
The Great Sandhills are dunes in the southwest region of Saskatchewan. The sand is very finely ground sand deposited over 12,000 years ago near the end of the last ice age. Due to the windy area, the landscape is everchanging, with the fine sand moving around and creating new dunes.
Would you like to
visit this exciting site with us now
? ♥
What is the filter for?

Some puzzles are shown behind a filter. These puzzles are within our guidelines but still is material of which some will take great offence. Read more about the reasons and workings of the content filter and how you can set your account up to either see or not see puzzles that are shown behind a filter.