Reflections on the Soča river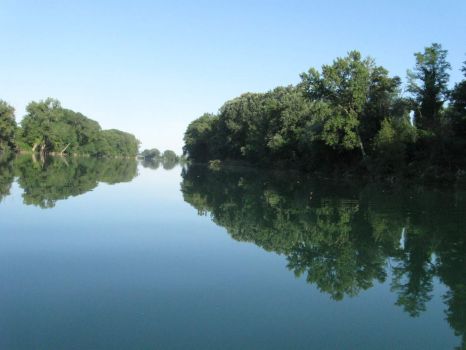 Why are you reporting this puzzle?
The Soča/Isonzo river flows over the territories of Slovenia and Italy. Its total length is 138 km (96 km in Slovenia 42 km in Italy).

It starts as a Karst spring 990 meters high in the Alpine territory and it displays its mountain character and fabulous colours to all who visit the area or do adrenaline water sports. Later on it assumes a slow flow.

The Soča joins the Adriatic sea in the area of Isola della Cona in Friuli, Italy. I was wanting to visit the mouth of the Soča river for several years. Last year we made it and the experience was great as we paddled the river in an inflatable canoe. One day we paddled upstream till the last pebble isle, and the next day we paddled downstream all the way to the area where the Soča becomes part of the Adriatic. Paddling 10 km downstream was very peaceful while it was more difficult to get back due to the combined effects of riverflow, tide and a little bit of wind. Altogether, an unforgettable experience.