Red and yellow rose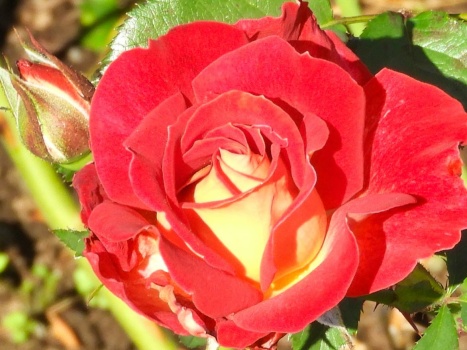 Why are you reporting this puzzle?
This garden has an interesting history. It was originally in a different location and was begun by Mrs. John Klints, a native of Latvia, who wanted to give her adopted home of Duluth a beautiful formal rose garden similar to those she'd known in Europe. It opened in 1965 within Leif Erickson Park, with 2,000 roses, all arranged in gently curving beds surrounding an antique horse fountain. Here it remained for 25 years and its splendor won it a "Public Show Garden of America Award". A vast and ambitious city redevelopment project and a clever Department of Transportation solution to the termination point of the freeway entering Duluth, resulted in the new location of the rose garden. The garden reopened in 1994 after four years of construction and, again, as part of the new Leif Erickson Park. The six acres are still formal in nature and still have the fountain and gazebo from the original garden, but the beds are now two, long beds and four circlular beds. There are now in excess of 3,000 roses and 12,000 non-rose plantings, including day lilies, evergreen shrubs, mixed perennials and an herb garden. Rose varieties are well labeled. There are also signs that give information on rose history and culture. Brick walkways connect all of the beds and there are many benches in the garden that resemble stone sofas on which to rest and admire the garden and view the lake, with its oar barges and bridges. All of this garden now grows on top of seven feet of soil resting on the highway tunnel. This means the soil is slower to heat up in the spring leading to about a two week lag in growth compared to plants in the area not planted on top of a tunnel. But the "lake effect" from Lake Superior usually means a longer, warmer fall and breezes from the lake keep fungal diseases at a minimum. These same breezes can adversely affect new growth on canes in the spring.

Taken September 21, 2022.