The Orb Weaver and its zig-zag web.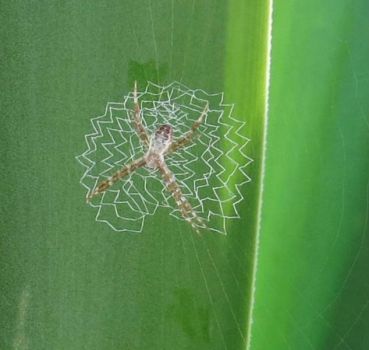 Why are you reporting this puzzle?
This really tiny spider and web is only about 2cm or1/2" wide. It was quite hard to focus on! Taken in the back garden this morning - after we had 262mm or 8 1/2" of rain on Thursday and Friday!!

Wikipedia says the following about the zigzag pattern:
The web of the yellow garden spider is distinctive: a circular shape up to 2 feet (60 cm) in diameter, with a dense zigzag of silk, known as a stabilimentum, in the center. The purpose of the stabilimentum is disputed. It is possible that it acts as camouflage for the spider lurking in the web's center, but it may also attract insect prey, or even warn birds of the presence of the otherwise difficult-to-see web. Only those spiders that are active during the day construct stabilimenta in their webs.

Brisbane, Australia.