Uh-Oh!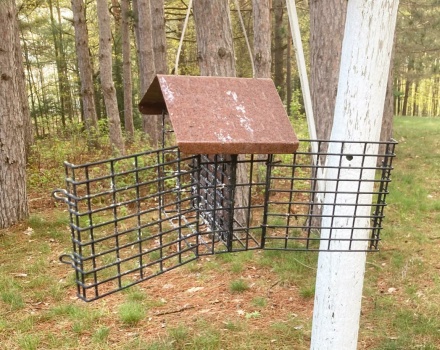 Why are you reporting this puzzle?
Last week I was sitting on my back porch one day, and suddenly realized my suet feeder was gone! I wandered around systematically, and eventually found it, still intact, about 80' toward the back of the lot.

It was clearly not the work of red squirrels; they're too small. It could have been a gray squirrel, but I hadn't seen any (I subsequently saw one running across the back of the lot). I was afraid that wasn't the answer, though.

I put up another block of suet and rehung the feeder, and it was fine for a few days, then gone again one morning - this time it was about 20' away on the ground, open, and the suet was gone. Sigh - raccoons!

I tried one more time, putting a suet cake in. It was fine at 10 that night, but the next morning this is what I found. I didn't refill it, but this morning it was on the ground - the racoon had clearly been back.

Grey squirrels are difficult, but manageable; raccoons are a different story. They're formidable opponents, undeterred by squirrel guards:

https://www.jigidi.com/puzzle.php?id=5e6hezor

So I have a quandary. The suet was regularly visited by my Red-Breasted Nuthatches, and I've also seen White-Breasted Nuthatch, Downy Woodpecker, Chickadees, and, surprisingly, Chipping Sparrows at the feeder. But there's no point in refilling it just for a raccoon to walk off with the whole cake every night, and no obvious way to hang the feeder where it's racoon-proof.