For my American friends freezing their nose hairs, here is the prognosis for Monday morning.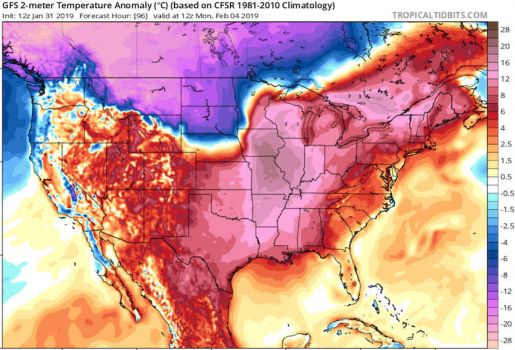 Why are you reporting this puzzle?
"Departures from average temperature (in degrees Celsius) predicted by the 12Z Thursday run of the GFS model for 7 am CST Monday morning, February 4, 2019. Readings are predicted to be 12 to 18°C (22 to 32°F) above average on Monday morning across most of the Mississippi Valley, while temperatures could be 12°C (22°F) below average over the northern High Plains of Montana and the western Dakotas."

You will note - that is, you WILL, I will 'direct' your notice - even if I have to grab you by the nose hairs - MY home will be in the area that is 12°C BELOW normal.

So I will have to suffer through a painful -12°C (10°F) for a couple hours overnight.

I have lived and worked and flown jet engines in -40° (which is exactly the same temperature, in Celsius and Fahrenheit) and that is the temperature where your nose hairs freeze so brittle they break and fall off.

Seriously I hope my US friends are doing OK in the deep freeze.