bez černý, Česká republika ...............
bez černý, Česká republika ...............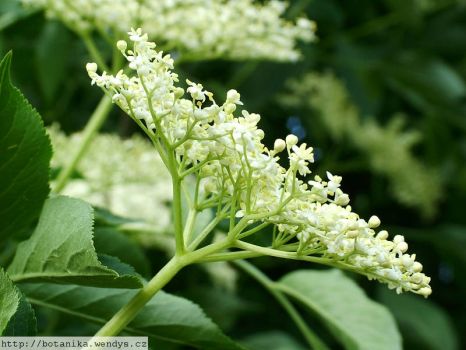 Why are you reporting this puzzle?
......... Without a black sambucus nigra - the ever-present and well-known shrub, sometimes even a tree, beautifies its surroundings twice a year: first in spring, when you bloom in May with the intense smelling flat tops of yellow-white flowers, then again in the autumn, when his petals begin to yellow, fall off and reveal the rich tassels of deeply black berries, bending the narrow branches down to the ground. We just refer to fruits as dew.
If people knew what a blessed shrub was, no one would ever cut a twigless tree, because each part of it has excellent healing power - root, leaf, flower and fruit. As it is without being twice beautiful, it has two main uses. The entire flower plate is picked at the very beginning of flowering when the middle flowers are still closed. But you can also buy a flower drug in a pharmacy or drugstore. Flower tea is a first-class cure for all colds (colds). It induces sweating, destroys rotting bacteria, cleans bloody bronchi. It also has diuretic effects and is slightly absorbed, thereby relieving constipation. When used externally, the drug is a great addition to inhalation mixtures against rhinitis and bronchitis, but also against headaches, face, teeth and ears, and has proven to be a testis for varicose veins.
Blackberries are known as elderflowers. Dried or pre-cooked ripe berries of black eyelid (ie elderberry) are not poisonous. Carefully pick them up, remove the green berries, leave them only black and healthy. We can dry them, make them a warm syrup, cook them as a compote or pour wine in the ordinary way. We can eat them raw, but only in a very small amount because they are eating.
The main significance of beet-free fruits is that they relieve pain of nervous origin. They help in nerve inflammations (neuritis and nerugalia), such as the trigeminal nerve, sciatic nerve (sachias), and in the spinal cord of the intervertebral disc. For all these pains, I recommend using a three-a-day cup of a noodle, a broth or a syrup that can be diluted with water. If you feel it painful with pills, we usually have trouble returning it, but after treatment with the bloom, we have mostly room for the disease.
A good addition to treatment is the massage of the painful places with an oil extract from the leaves of the black bezu .........