USS Cumberland - launched 1842; lost 1862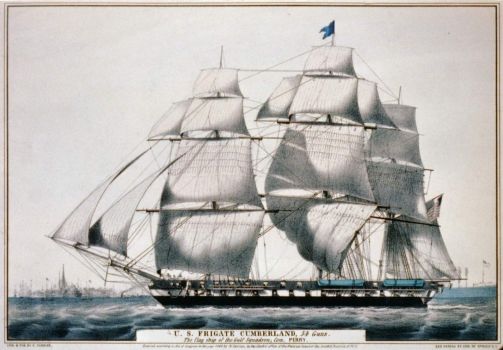 Why are you reporting this puzzle?
The USS Cumberland, an all wooden and sail powered ship, was sunk by the CSS Virginia, the first ironclad steam powered warship, during the Battle of Hampton Roads on March 8, 1862. The CSS Virginia was built by the Confederate States Navy upon the lower hull and engines of the scuttled steam frigate USS Merrimack which was torched by the Union before the South captured the federal Gosport Navy Yard (now known as the Norfolk Naval Shipyard). The Cumberland, already hit by cannon fire, met its fate when it was rammed by the Virginia during its attempt to escape the US Navy's blockade of the shipyard. The Virginia later battled with the USS Monitor but that face-off ended indecisively. The Virginia was never able to leave the shipyard and it was scuttled by the South on May 11, 1862. The loss of the Cumberland showed the advantage of steam-powered, armored ships over sail-powered wooden-hulled ships.