Our Wet Birds. Larger.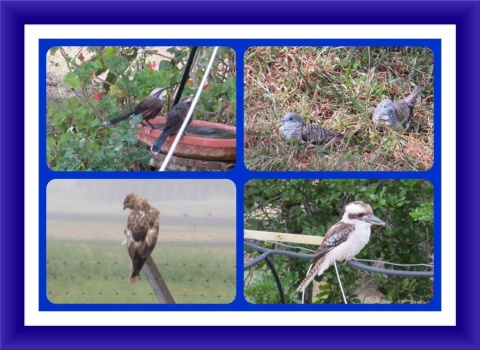 Why are you reporting this puzzle?
We had beautiful rain last week, most unusual in May, and the birds enjoyed the rain too.

Top Left: Some Grey Crowned Babblers enjoying the rain and the bird bath! They make a lot of fuss and noise.

Top Right: Some little Peaceful Doves sat in the wet grass seeing the Babblers wouldn't share the bird bath.

Bottom Left: We have been having a mouse plague for some weeks now and these little Raptors have come to hunt the mice. This one rested on the new airport fence and I had the zoom on full to get him. We think it's a Black Kite. We have only seem their backs and also their outline flying about us.

Bottom Right: The Kookaburras are hunters too and have enjoyed the mice. This one sat on the clothesline to watch.

All photos taken on very rainy days, so apologies for the quality of the pics.