My Orchids for Monday. Smaller.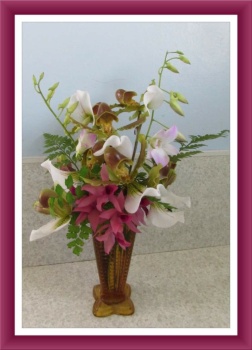 Why are you reporting this puzzle?
My orchids are putting on a show right now. The two tall Dendrobiums at the back should be all finished flowering in March!! The Slipper Orchids (Paphiopdilums) are flowering well. I picked about 10 and there's more buds coming. The little pinky/ purple flowers at the front are a very old type of Cattleya. They only have very small stalks. There's two heads of them. I added some ferns.