Willis Island...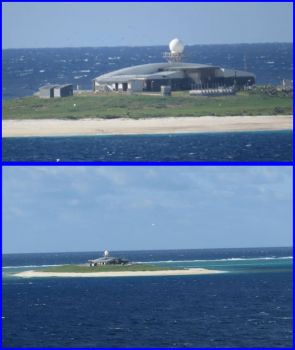 Why are you reporting this puzzle?
This tiny dot is a Bureau of Meteorology (BOM) weather station manned by 4 Meteorologists on rotating 3-month tours! The Ship's Captain timed our visit to watch the 9a.m release of a weather balloon ( just visible above and to the right of the building, not the large, white radar dome) and he had one of the meteorologists tell us over the P.A. system a bit about the work & living conditions on the island.

The whole infrastructure had to be rebuilt after Cyclone Yasi made a direct hit in 2011 and it took 14 months to complete. There's no jetty on the island, so everything has to come by boat & be tendered to the beach in small crafts.

After leaving Willis Island we set sail for Brisbane - 1276km (689 miles) away.