Emperor Ming Huang and Yang Guifei Playing a Flute Together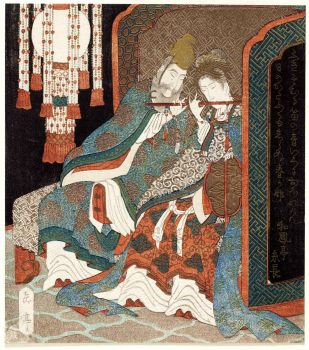 Why are you reporting this puzzle?
Yashima Gakutei (1786-1868)

Yang Yuhuan (719 - 756), often known as Yang Guifei (lit.: 'Imperial Consort Yang', with Guifei being the highest rank for imperial consorts during her time) was known as one of the Four Beauties of ancient China. She was the beloved consort of Emperor Xuanzong of Tang (also known as Minghuang) during his later years.

During the An Lushan Rebellion, as Emperor Xuanzong and his cortege were fleeing from the capital Chang'an to Chengdu, the emperor's guards demanded that he put Yang to death because they blamed the rebellion on her cousin Yang Guozhong and the rest of her family. The emperor capitulated and reluctantly ordered his attendant Gao Lishi to strangle Yang to death.
(from Wikipedia)
What's up with Jigidi and erotica?

Blatant sexual objectification is not allowed on Jigidi. You'll find our review criteria for erotica here, along with a more in-depth rundown on our stand on blatant sexual objectification on Jigidi.