The Day Ali Came To Bonga-Bonga.....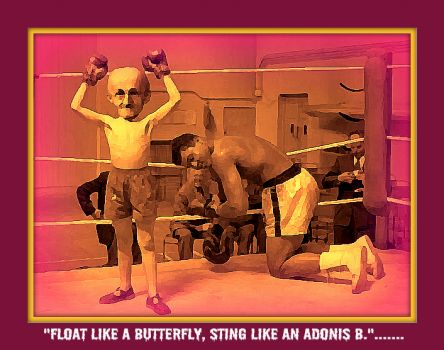 Why are you reporting this puzzle?
As a highly esteemed word leader, there is one question which always pops up during my coverstions with adoring supporters......"Mr.Bugosi, you must have many anecdotes concerning famous visitors to your wonderful country - care to share?"
Well, one concerns the fight which took place between Dr.Adonis B.Bugosi (The Mighty Atom) and a youngster named Cassius Clay, for the prestigious Bonga-Bonga light-cruiser-bantam-middleweight crown.
In the first round, Dr.A.B. delighted the crowd by running round in circles, jumping up and down, and performing his famous skipping without a rope routine........
The second round went pretty much the same way, but with Clay looking decidedly dizzy, and that is when The Mighty Atom struck - pretending to tie an imaginary lace on his sandals, he fell headlong into the chest of his adversary, sending Clay to the canvas......
Unfortunately that was right at the end of the round, so The Atom could not follow up with his trademark 'knee in the chin uppercut' and Clay was saved by the bell......
The Mighty Atom was scandalously knocked out in round 3 - WHEN HE WASN'T LOOKING!

Clay went on to become quite well-known......