Músicos y Negrería de Yauyos ~ Victor Salvo (Peru)
Músicos y Negrería de Yauyos ~ Victor Salvo (Peru)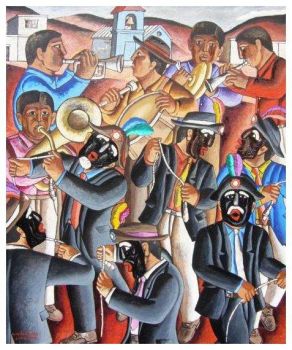 Why are you reporting this puzzle?
Musicians and negreria of Yauyos, a province in the Lima region of Peru.

In colonial times, the indigenous people from the villages in the Peruvian province of Yauyos encountered enslaved people from Africa when they went to work in the Spanish haciendas and mines. There they witnessed the life of the suffering black slaves who, like the indigenous peoples, were also subject to the imposition of Christianity. The negrería is a traditional dance expressing the cultural syncretism of two exploited and battered peoples.

Jesus Victor Salvador Portuguez (Victor Salvo) is an artist from Lima Peru who bases his work on indigenous motifs.