Sloppy Joe Dogs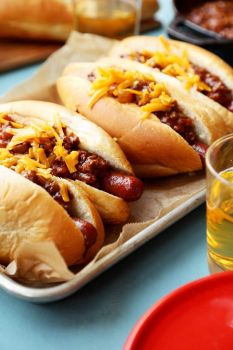 Why are you reporting this puzzle?
Jonathan Melendez, food blogger, writes,

"Sloppy Joes and Hot Dogs are getting married and becoming the ultimate sandwich that takes no time at all to whip up. So when you're in need of a super fast meal after work but don't want to spend hours in the kitchen because you got shows to catch up on; the answer is Sloppy Joe Dogs."

"As most children did, I demanded hot dogs on the regular and my mom and I would eat sloppy joes whenever it was just us for dinner, because my sisters HATED (still do) sloppy joes. They're aliens, what can I say?!

Now lucky for us all, we don't have to choose between the two because we can totally have them together in one mega dish. Vegetables? Who needs vegetables?! Give me all the hot dogs topped with sloppy joes any day of the week."

Recipe instructions at the link!