Dish with Dragon and Phoenix, Ming dynasty, late 16th–early 17th century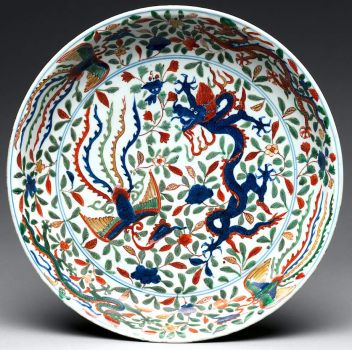 Why are you reporting this puzzle?
Dish with Dragon and Phoenix
Ming dynasty (1368–1644), Wanli mark and period (1573–1620)
late 16th–early 17th century
Culture: China
Porcelain painted with cobalt blue under and colored enamels over transparent glaze (Jingdezhen ware)
H. 2 3/4 in. (7 cm); Diam. 14 3/4 in. (37.5 cm); Diam. of rim 14 7/8 in. (37.8 cm); Diam. of foot 9 5/8 in. (24.4 cm)
The Metropolitan Museum of Art
Rogers Fund, 1917
Accession Number: 17.118.17

"The five-clawed dragon, a symbol of the emperor, is paired here with the phoenix, often associated with the empress."

From Wikipedia:
"Jingdezhen porcelain … is Chinese porcelain produced in or near Jingdezhen in Jiangxi province in southern China. Jingdezhen may have produced pottery as early as the sixth century CE, though it is named after the reign name of Emperor Zhenzong, in whose reign it became a major kiln site, around 1004. By the 14th century it had become the largest centre of production of Chinese porcelain, which it has remained, increasing its dominance in subsequent centuries.[1] From the Ming period onwards, official kilns in Jingdezhen were controlled by the emperor, making imperial porcelain in large quantity for the court and the emperor to give as gifts.

Although apparently an unpromising location for potteries, being a remote town in a hilly region, Jingdezhen is close to the best quality deposits of petuntse, or porcelain stone, in China, as well as being surrounded by forests, mostly of pine, providing wood for the kilns. It also has a river leading to river systems flowing north and south, facilitating transport of fragile wares.[2] The imperial kilns were in the centre of the city at Zhushan (Pearl Hill), with many other kilns four kilometres away at Hutian.[3]

It has produced a great variety of pottery and porcelain, for the Chinese market and as Chinese export porcelain, ... . The imperial court, except during periods of crisis, generated a huge demand for porcelain. Apart from the vast main palaces and other residences, for much of the period the many princes had subsidiary regional courts. There were imperial temples to be supplied, each of which was given monochrome wares in different colours, as well as several monasteries and shrines. The porcelain to which different ranks of the imperial household were entitled were set out in minute detail in regulations."
Are you curious about how do we review content on Jigidi?

At Jigidi, we celebrate what connects us and steer clear of divisive content because how we meet each other matters. It forms us. When we review the content, we use four 'lenses' and look for what the image or comment is most.