5 Famous Pieces of Presidential Trivia (That Are Total BS) - JFK's Dad Was a Bootlegger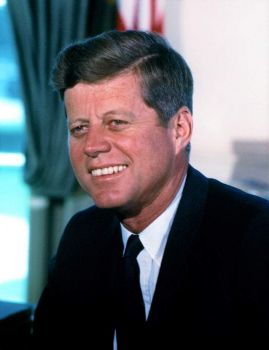 Why are you reporting this puzzle?
From the comedy website Cracked.com.

The Myth:

Jay-Z wouldn't lie to us: Everyone knows Joe Kennedy, patriarch of the Kennedy clan, was a bootlegger during Prohibition, and the family fortune was more or less founded on his illegal gains.

(That's why the whole family has suffered under a tipsy curse.)

The Truth:

This is probably the most pervasive story on this list, yet there is no evidence for it whatsoever. In fact, it would have been pretty strange if Joe Kennedy, who was already an immensely wealthy Hollywood mogul and investor when Prohibition began, had decided to risk it all for his undying love of gettin' sloppy. Teddy, maybe -- but not Joe.

In fact, historians have found little evidence supporting the rumors (save for Joe stockpiling a good amount of whiskey just before alcohol became illegal. But then, wouldn't you?). During the 1930s, Joe Kennedy was nominated for a number of federal positions, all of which required a thorough background check -- no evidence of involvement in bootlegging was ever found. Not even in the 1940s, when he was widely hated as a Nazi sympathizer (why isn't that the story people remember?), did anybody even suggest that he was involved in bootlegging. In the 1950s, President Eisenhower had the FBI investigate all aspects of Kennedy's life, but not even his most bitter enemies accused him of smuggling alcohol. You'd assume someone would at least have mentioned it.

(The FBI kept a file about his ridiculous pants, but no, nothing on bootlegging.)

The story seems to stem from Kennedy's actions when it became clear that Prohibition was ending. He immediately obtained the import rights for several high-end gin brands and started bringing them into the country before the law was technically repealed. However, this was perfectly legal, as he did not actually sell any of the gin until Prohibition ended. The liquor was kept in sealed warehouses and monitored by customs. In the 1950s, the Chicago Tribune reported that Kennedy had imported booze before Prohibition ended, completely failing to mention the "while very much abiding by the law" aspect of the situation.

The story took off when JFK ran for president and really got out of hand after his assassination. Once the conspiracy theorists got their tin foil ball rolling, wild speculation about the Kennedy family's supposed connections to organized crime became big business. One writer even dug up Al Capone's 93-year-old former piano tuner, who confidently declared that Joe Kennedy had been invited to a spaghetti dinner at Capone's house to share some hilarious bootleggin' tales (no word on why Capone would have shared this information with a goddamn piano tuner). At that point, elderly mobsters like Frank Costello and Joe Bonanno smelled easy money and started releasing books about their supposed connection to Kennedy, and they were all swallowed as fact. Because if you can't trust the unsupported word of notorious criminals when money is on the line, then who can you trust?