Reverence For Life ~ Christi Belcourt (Metis)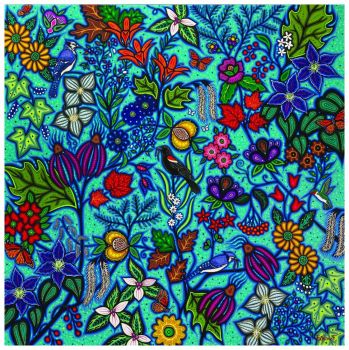 Why are you reporting this puzzle?
Christi Belcourt's Metis ancestry originates from the historic Metis community of Lac Ste. Anne, Alberta, Canada. "All species, the lands, the waters are one beating organism that pulses like a heart. We are all a part of a whole. The animals and plants, lands and waters, are our relatives each with as much right to exist as we have. When we see ourselves as separate from each other and think of other species, the waters and the planet itself as objects that can be owned, dominated or subjugated, we lose connection with our humanity and we create imbalance on the earth. This is what we are witnessing around us."

The widely varied plants and animals that appear in Belcourt's works are faithful representations of actual living things.