BLT 1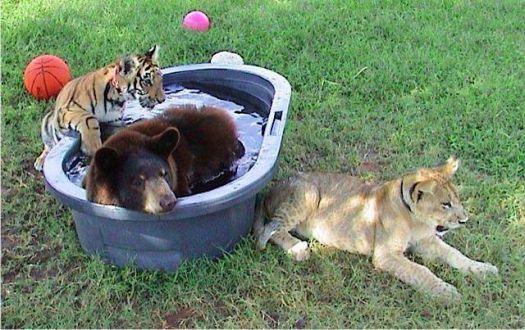 Why are you reporting this puzzle?
The BLT brotherhood

Original Source: Noah's Ark Animal Sanctuary

No, not a bacon, lettuce and tomato sandwich, but a bear, lion and tiger! Baloo, the American black bear, Leo, the African lion, and Shere Khan, the Bengal tiger met under very sad circumstances. They were discovered as cubs in 2001 in a drug raid. Only a few months old, they were discovered by police in a drug lord's basement; terribly neglected and malnourished. Leo had a wound on his nose from being confined in a small crate, and Baloo underwent surgery to remove a harness which his skin had started grow over because it had not been adjusted as he grew. During Baloo's surgery, Leo and Shere Khan paced and vocalised their distress at being separated from their friend. However, they have not been separated since.

The three animals now live together at Noah's Ark Animal Sanctuary in Georgia, USA. When observing the bear, tiger and lion, there is no doubt that they love each other like family. They eat, sleep, play and groom each other affectionately all day long. Apart from Leo's scar, they are now all healthy and happy. The deep bond formed as cubs has grown into a strong, but unlikely, brotherhood between the three animals.

- See more at: http://africageographic.com/blog/unusual-animal-friendships/#sthash.y5egElbC.dpuf
What is the filter for?

Some puzzles are shown behind a filter. These puzzles are within our guidelines but still is material of which some will take great offence. Read more about the reasons and workings of the content filter and how you can set your account up to either see or not see puzzles that are shown behind a filter.