The Sunken-Sunken Hand........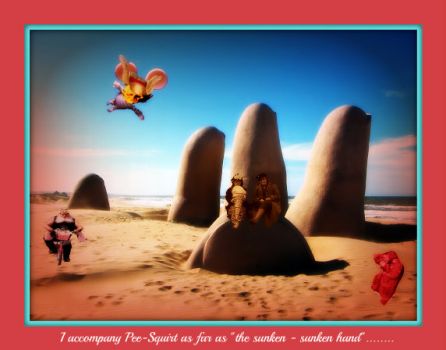 Why are you reporting this puzzle?
Today I accompanied Pee Le-Squirt and Hippolytus, as far as the barren, isolated region of Nether-Bonga (known as the land without tadpoles) - the starting-point on their journey into the unexplored region of Nether-Nether-Bonga.........
They are searching for the fabled nubile nymphs of the area - Hippolytus wants to photograph them
for his forever-forthcoming book "Nubile Nymphs Of The World", while Mr.Le-Squirt has other....er.....motives..........
Our surprise was great when, having passed "The Sunken Hand", we came across a "Sunken-Sunken
Hand".........Here we see the once-notorious Torius sisters sharing their ice-cream atop the giant thumb.....(They are enjoying a day out as reward for being model prisoners......I mean, patients, at the D.O.L.L.S. House)........