Underground fire from our former coal mine may burn for years.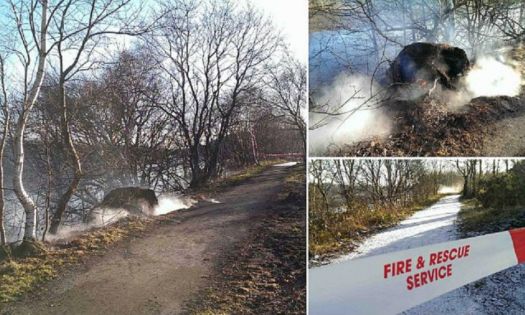 Why are you reporting this puzzle?
Firefighters have been left powerless, as they are unable to extinguish it. This kind of fire is rare, generally caused by either a coal seam, or a mix of spoils + aggregates accumulated from the coal heap.
In this case it's thought to be the latter - probably from two old ponds that where back filled with spoil. Makes sense, the golf course which runs along to the right of the path (just out of sight on these photos) was built on one big slag heap from the pit, which closed in 1966.
The section of the "Keelman's Way" path has been closed off until further notice, for safety in case of a collapse. There are also trees all along the path that could be burning from the roots which may then fall.
The fire chief said geologists have proved a lightning strike to a coal seam in Australia triggered a fire that is still burning 5,000 years after the incident, and in Ohio, USA, a fire in a coal seam that started in 1884 is still burning.
The last fire of this nature was at an old colliery sight a few miles east in 1993+burned for 2 years.The chief added, the fire could burn for a day, a week or a month. The fire could burn itself out. It's one of the most difficult incidents to deal with.
This is where I often take my dog for a walk, as it's 5 minutes across golf course, from my front door!