just another magnetic storm on our Sun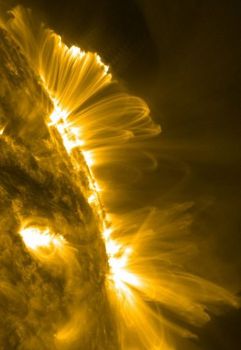 Why are you reporting this puzzle?
The volatility and ripping magnetic fields of our Sun are scary and cool. All our food energy comes from the sun. The ice/water/cloud (and gaseous H20, but that's not very poetic) states exist because Earth lives in the Goldilocks zone - not too hot (Mercury, Venus) not too cold (Mars, Ceres).

Our Sun is literally a giant magneto, and since its core rotates about 4 times faster than its surface, every 11 years or so the difference between the rotation of that core, and the relatively cold surface, well, ever been in a river? Where is the flow most, and where least? The smooth flow or movement (that's a metaphor too, actually) of those magnetic lines of force get stretched and torn and snap like elastics (metaphor) and that's where we get these solar flares... that are many times the size of Earth, and have the capacity to wipe out the entire electrical grid if strong enough - we've seen this before (lookit up - https://en.wikipedia.org/wiki/March_1989_geomagnetic_storm)

It's because the magneto rotates faster internally than it does on the surface, the magnetic lines start to stretch and twist and break... so that's when we get our 11 year solar activity cycle ramped up enough that we pay attention!

By comparison, the size of earth is smaller than any individual feature you can see on this image of the Sun. Yeah, we live on a speck of dust, raising our faces to this volatile Hydrogen monster super-bomb.... hoping it will give us a nice harvest this year.

Feel little? no worries, every atom in our world (and by inclusion, in our bodies) was forged in a star. Except the Hydrogen - but that's a whole other puzzle!