Armorial Plate: The Story of King Midas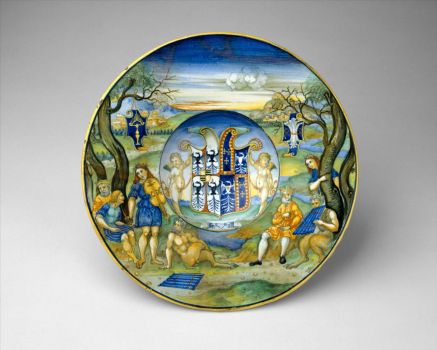 Why are you reporting this puzzle?
From the Metropolitan Museum Open Collection, Nicola da Urbino ca. 1520-25
In Renaissance Italy, fine maiolica was often associated with the relaxed yet elegant atmosphere of the country estate, where hospitality was generally overseen by women. This plate belongs to a service commissioned by Eleonora Gonzaga, Duchess of Urbino, as a gift for her mother, Isabella d'Este, Marchioness of Mantua. On all the known pieces, Isabella's arms are joined with those of her husband, Gianfrancesco Gonzaga. The arms are frequently accompanied by mottoes and heraldic or personal badges belonging to Isabella or her husband. Twenty-one pieces of the service survive, all decorated by the greatest maiolica painter of the sixteenth century, Nicola da Urbino. The center of this dish shows Isabella's coat of arms surrounded by three of her personal emblems: a musical scroll, a candelabrum with one lit candle, and a bunch of lottery tickets. On the rim is a portrayal of the musical contest between Apollo and Pan judged by King Midas, a subject recounted in Ovid's "Metamorphoses." The subtle coloring and delicate execution of the expansive landscape setting reveal the artist's consummate skill. Another piece from this service is also in the Robert Lehman Collection.
Do you know how to save puzzles for later?

If you want to save a puzzle for later, you can bookmark it, and it will stay in your bookmarks – waiting for you ☺