Francis Luis Mora, American Gladiators (1908)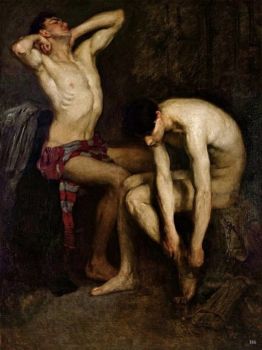 Why are you reporting this puzzle?
Francis Luis Mora (1874–1940) was born in Montevideo, Uruguay, to Domingo Mora, a noted sculptor from Catalonia, and Frenchwoman Laura Gaillard. His family left Uruguay in 1877 and went first to Catalonia, then to the United States, where they eventually settled in Perth Amboy, New Jersey.
As a child, Mora was encouraged by his father to draw and paint, and at 15 he began to study at the School of the Museum of Fine Arts, Boston. He later attended the Art Students League of New York. His formal art education ended in 1893, when he was just 19 years old. He had a successful career as an illustrator, teacher, easel painter, portrait artist, and muralist.