First port of call on our cruise - Airlie Beach..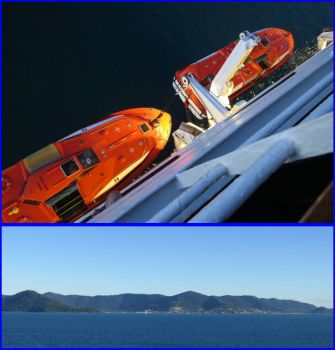 Why are you reporting this puzzle?
Chris & I are back from our 7-day Navy Reunion cruise up the Queensland coast, and this was our first stop.
We were woken at 6.15a.m. by the lowering of 2 tenders/lifeboats four decks below our balcony!! They - along with two huge catamarans - were used to ferry people ashore for excursions! We'd already holidayed here so stayed on board and had a peaceful swim without the usual crowds around the pool deck!

The Pacific Dawn was way too big to dock at all three ports we visited, so the tenders and big cats were used each time, and we moored about 1km offshore.

Airlie Beach is the main port/town for the Whitsunday Islands (74 islands) and is in the Great Barrier Reef Marine Park. We saw lots of whales on their yearly migration north - but when I had my camera they were too far away, and when they were up close to the ship - my camera was in the cabin!!!! That was VERY frustrating!!!