"Day Dreamer With Friends" An Illustration By Shinya Okayama
"Day Dreamer With Friends" An Illustration By Shinya Okayama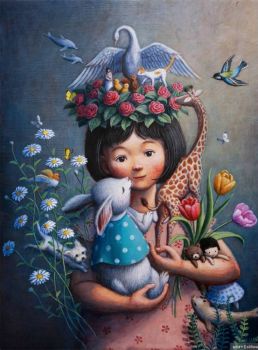 Why are you reporting this puzzle?
The world of fabulous harmony Shinya Okayama

... The masterful execution of her work speaks of the excellent education she received.
Shinya Okayama is a talented Japanese artist who takes us to some kind of fairy-tale world filled with children and animals. The illustrations of Shinya Okayama are part of some stories combined by common characters. Shinya Okayama was born in 1982 in the suburb of Ibaraki, Japan. She graduated from the school of fine art and design, participated in many international exhibitions.
... Of the animals stands out a lizard, which is written on the artist's website, which is a symbol of friendship between people and animals.

The delightful time of childhood ... How many memories and joyful events are associated with this wonderful period. Many artists with their paintings do not get tired to remind us of the carelessness and bright colors of the tender age.