It's Canada Day July 1, eh. What does that mean?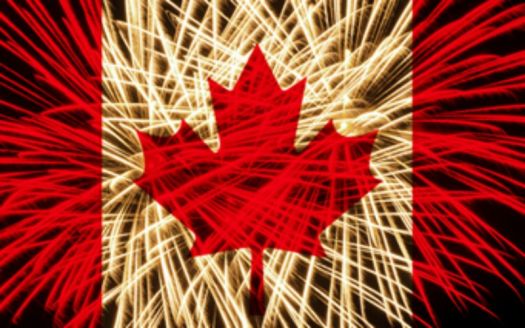 Why are you reporting this puzzle?
July 1 is Canada Day (French: Fête du Canada), a federal statutory holiday celebrating the anniversary of July 1, 1867, the effective date of the British North America Act, which united the three separate colonies of the Province of Canada, Nova Scotia, and New Brunswick into a single Dominion within the British Empire called Canada. Look up how tiny NS and NB are compared to the rest of the country! think Rhode Island in the states or Luxembourg in Europe, then make it Canada proportions.

Originally called Dominion Day (French: Le Jour de la Confédération), The name "Canada" likely comes from the Huron-Iroquois word "kanata," meaning "village" or "settlement." In 1535, two Aboriginal youths told French explorer Jacques Cartier about the route to kanata; they were actually referring to the village of Stadacona, the site of the present-day City of Québec.

Canadians tend not to be rah rah patriotic, or smugly satisfied, but we are grateful to live here, and aware how lucky we are compared to many places in the world, and how imperfect we are, and how we might share and strive to make the world and ourselves better. Our education system and media, while imperfect, do give us a fairly global (though in my memory, a heavily Anglo / Western approach) and slightly left of centre view of the world.

The second largest country in the world by total area, Canada has the longest coastline of any country in the world. It is bordered by three Oceans and one country. It is comprised of ten provinces and three territories. Hence "sea to shining sea to shining sea", and more than one continental divide. All but two of those provinces and territories have an ocean coastline.

A recent court case set the precedent that saying "I'm sorry" to someone after an accident (like a car accident) is not an admission of guilt / responsibility for said accident. It might sound funny but would have saved me a lot of money and heartache if this had been passed 20 years ago, when I was in a not at-fault car accident and ran out to see the people were OK and said "Are you ok? I'm so sorry!"

We even have a great board game from the 30's called Sorry! but it was designed in England and manufactured in the States. Dunno if any of my US friends have ever heard of it though.

So. Mostly Canada Day is about being grateful and happy (though my First Nations friends feel differently about it, and I respect that and understand why).

I sort of doubt we'd make much of a deal of it if that Constitution with the BNA happened on, say, January 28 1867. Though we do love our winter sports and outings.

Happy Monday July 1 to everyone, whether you are here or not. Say "sorry" or even reply to thank you with "you're welcome" and see if it makes you feel a little Canadian.

Whatever you do this Monday, have a wonderful day!