Tres: I'm KING of the World...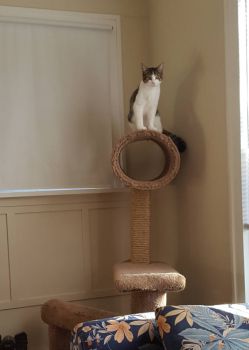 Why are you reporting this puzzle?
Okay, my world! This is a new cat tree that a friend made for his wife's cat that refuses to use it. Needless to say this bunch love, Love LOVE it! Tres has even hung upside down from where he is sitting.
They seem to be settling in very well to their new digs and new Cat TV channels.
This one is for YOU, Miss Willow! XOXO Tres
How do you follow a puzzle creator?

Do you have one or more jigsaw puzzle creators on Jigidi whose puzzles you are always looking for? Then you might consider "following" them, which means you'll receive a notification upon their newest postings.