Fried Chicken Salted Bloody Mary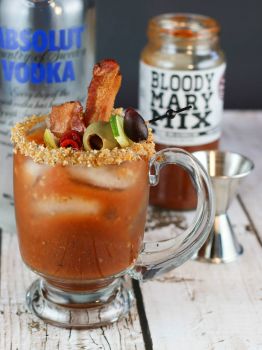 Why are you reporting this puzzle?
Tim, the blogger, writes:

"I have been working on an idea for a long time for some fried chicken flavored salt. The idea was to grind some fried chicken skin with salt and black pepper. I thought it would be delicious on roasted vegetables or sprinkled on pasta or soup (or anything else for that matter). Then during [a conference] slide presentation, I saw some beverages with salted rims, and BINGO!

... Helping me out would be a jar of Bloody Mary Mix ... that I snatched off the swag table.

... Their Bloody Mary Mix is exceptional and the perfect combination of zesty and spicy. Damn the Boy Scout in me that only allowed me to take one jar.

... Making Fried Chicken Salt is easy especially if you already have some chicken skin saved from a previous project. ... All you need to do is cut it into 1/4-inch strips, and then fry it until brown in about a half of an inch of oil. Drain it on paper towels until you are ready to grind it up. After I had fried it up, I chopped it a little on the board, and then put it into the mortar to finish. Like everything crispy, it is best to use as soon as possible. When you are ready to make your Bloody Marys, pour some chicken salt onto a small plate. In another plate pour some maple syrup. Dip the rim of the glass into the maple syrup, then into the chicken salt. Add ice, vodka, and Bloody Mary Mix according to the directions on the bottle. Garnish with fried bacon strips and pickled vegetables and olives. Bottoms up!"

Mischka here again. I've been sorta scattering riddles around Jigidi today, so here's another, factual one.

Q. What one letter of the alphabet can double your sales all by itself?