Hand-painted merc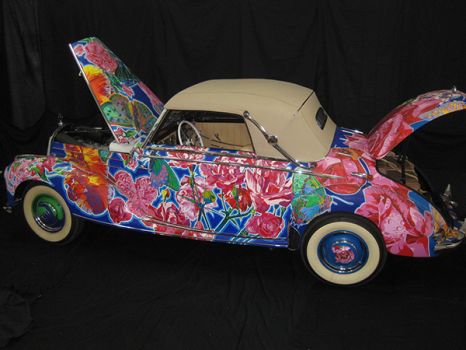 Why are you reporting this puzzle?
Two decades ago, Los Angeles-based Japanese artist Hero Yamagata was seeking legitimacy in the museum world. At that point, he was mostly known as a wealthy commercial silkscreen artist with a lot of celebrity acquaintances, including Elizabeth Taylor and the poet Allen Ginsberg. So he embarked upon an outrageous project to use fully restored classic 1950s Mercedes vehicles as his canvas. He reportedly completed about 20 of them to the tune of about $3 million. Hiro Yamagata was born in 1948 in Japan. He lived in Europe in his youth, and is now based in car-obsessed Los Angeles. Yamagata is mostly known for his use of extremely vibrant colors in cityscapes, celebrity portraits and popular topical themes. He is also regarded as a pioneer in the use of laser and hologram technology in art. His works are now represented in museum collections throughout the world.

For a 1994 show in L.A. , six vintage automobiles were acquired, restored, and painted white. Then Yamagata and about 20 assistants painted fanciful natural designs, based on photographs of nature that the artist took in Fiji. It was a mashup of Daimler and Gauguin.

The series called "Earthly Paradise," grew to about 20 cars, including the 1952 Mercedes-Benz Cabriolet 220A, which reached a bid of $225,900 on eBay in May 2015. The lush painting completely covering the car's body depicts flowers and butterflies.