Lower Tahquamenon Falls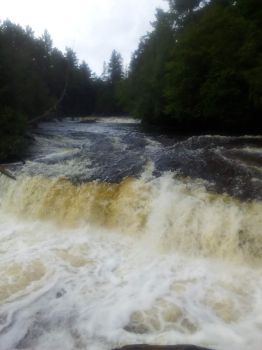 Why are you reporting this puzzle?
The Tahquamenon Falls in Michigan's Upper Peninsula consists of several waterfalls grouped into two sets. The big, single cascade is the Upper Tahquamenon Falls; the Lower Tahquamenon Falls is made up of multiple cascades. Here several of the cascades come together to create an impressive, if smaller, waterfall. (You can see a second cascade behind the one in the foreground.) The upper falls gets all the press and photographs in travel magazines, but a friend and I thought the lower falls more fun. The distinctive bronze coloring is from tannins in the water.