Illuminated Manuscript "The Coronation of the Virgin" -
Illuminated Manuscript "The Coronation of the Virgin" -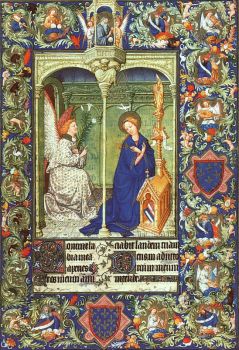 Why are you reporting this puzzle?
The Limbourg brothers (1385 – 1416) were famous Dutch miniature painters from the city of Nijmegen. They were active in the early 15th century in France and Burgundy, working in the style known as International Gothic. Together they synthesized the innovations of other illuminators and developed a personal style characterized by subtlety of line, painstaking technique, and minute rendering of detail.
They created what is certainly the best-known late medieval illuminated manuscript, the Très Riches Heures du Duc de Berry, unfinished at their deaths and completed about 1485 by Jean Colombe, is one of the landmarks of the art of book illumination.