Reuben Sandwich, German potato salad, and beer at the Muck & Fuss Craft Beer and Burgers Restaurant in New Braunfels, TX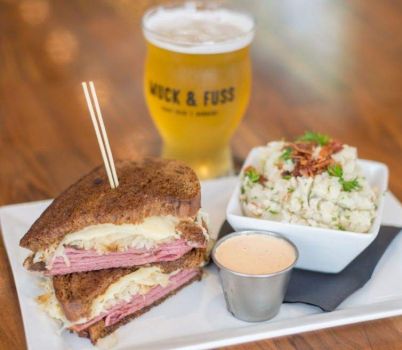 Why are you reporting this puzzle?
They say, more or less:

While no one knows who truly invented the Reuben Sandwich, we do know Chef John "Philip" Schwantner makes one of the best ones around town!

Enjoy his take on a classic with Naegelin's Bakery pumpernickel topped with thin sliced pastrami, sauerkraut, Swiss cheese & a house-made Thousand Island dressing. Comes with a side of classic German potato salad & paired best with an Altstadt Brewery Kolsch.