Bandy and Copper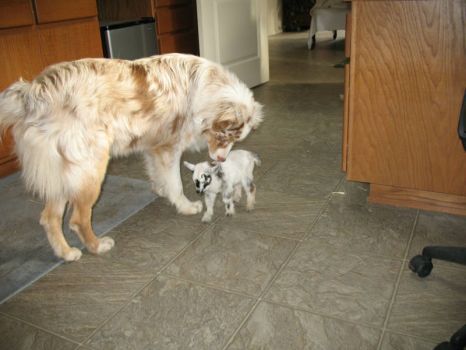 Why are you reporting this puzzle?
Bandy died today of wounds she got when a neighbor's dog jumped the five foot chain link fence and attacked her. It happened about 4 a.m. Friday morning. She was so tiny at birth that her mother rejected her and so we raised her in the house until she was big enough to go outside with the rest of the goats.

She is about 2 days old in this picture. She was as tall as a coke can then and our Aussie, Copper, adopted her and adored her.

Bandi (we changed the spelling later) never did grow as big as the others, but was always just as spunky. I would let her out of the pasture and she would trot around after me in the gardens as I worked.

We tried very hard to save her. 2 vets were involved. But we couldn't. It was just too much for her.

The dog has been reported to the sheriff and animal control. This is one little one we are going to miss so very, very much.