May 18th: Ice on the birdbath - and a question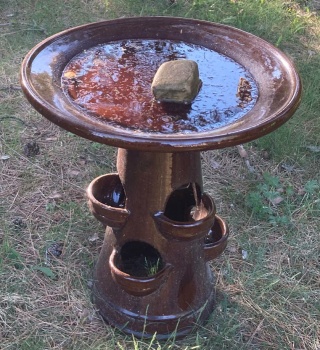 Why are you reporting this puzzle?
When I got up this morning, the temperature was below freezing, and the birdbath had ice on it. This picture is an hour or so later, and it's started to melt.

But you may note this birdbath is designed for the pedestal to be filled with dirt, and something planted in each of the pockets. I haven't done this, because up until now I haven't had a permanent location, but now I can do so. But what should I plant? My sister suggested strawberriesd, but it doesn't make much of a crop, and it seems likely that would just feed the birds.
Are you looking to change your password?

It's always a good idea to consider if you need to change your passwords on the different services you use. We have created a guide for you on how you can change your password on Jigidi.