SEA DRAGONS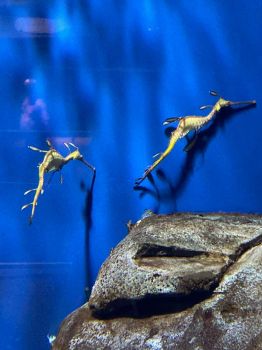 Why are you reporting this puzzle?
This photo was taken at the Atlanta aquarium by my friend Shannon. An interesting pair of sea dragons.

While their names may not suggest it, sea dragons are fish that are actually poor swimmers who typically drift with the currents instead of putting forth the effort to swim. This often bright-colored type of fish lives in the ocean around Australia and Tasmania. They rely on their camouflage to protect them from predators and survive by eating tiny prey, such as small fish and crustaceans – even though they have no teeth.

5 Sea Dragon Facts
• The male has a patch near his tail where he carries the eggs the female lays.
• Only three types of sea dragons are known, with the newest one, the ruby sea dragon, having been discovered in 2015.
• Sea dragons are camouflaged to blend in with their environment.
• Sea dragons are carnivorous fish.
• A male leafy sea dragon's tail turns bright yellow when he is ready to breed.