"Trimming the Whiskers"
"Trimming the Whiskers"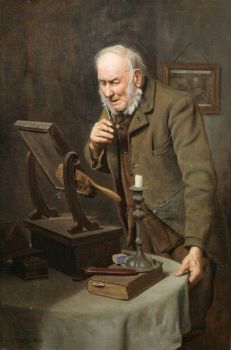 Why are you reporting this puzzle?
Charles Spencelayh was a British painter. He was born in Rochester, Kent, and studied at the Royal College of Art and in Paris. Spencelayh specialized in anecdotal domestic scenes in the tradition of Victorian genre painting, most typically showing old codgers pottering around in junk shops or other cluttered interiors. From 1892 until the year of his death he exhibited fairly regularly at the Royal Academy, a record for longevity that has rarely been exceeded. Critics generally regarded his work as trivial and outmoded, but the public voted his Why War? (Harris Museum and Art Gallery, Preston) 'Picture of the Year' at the RA exhibition in 1939 (in wartime he often appealed to national sentiment by depicting patriotic themes or including patriotic details). He appreciated the value of a good title: part of his income came from reproduction of his works on calendars, greetings cards, and so on, and he once altered the title of a picture (showing a man reading a bank statement) from Overdrawn at the Bank to A Good Balance, changing it from a non-seller to one that he said 'went like hot cakes'.