Stjórnarfoss, Kirkjubaejarklaustur, Southern Iceland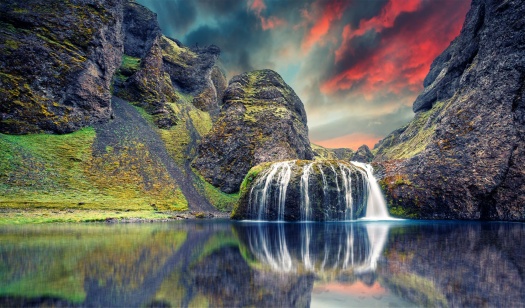 Why are you reporting this puzzle?
In Today's Daily Jigsaw Puzzle, we visit
Stjórnarfoss
in Southern Iceland.
Stjórnarfoss is a waterfall situated near the village of
Kirkjubæjarklaustur
in Southern Iceland.
Kirkjubæjarklaustur, often called "Klaustur," is a small village in Skaftárhreppur. It is a vital service center for those traveling the southern part of Iceland's Ring Road. Historically significant, Kirkjubæjarklaustur was the site of one of Iceland's first Christian monasteries during the Middle Ages.
The area around Stjórnarfoss and Kirkjubæjarklaustur is known for its unique geological formations resulting from extensive volcanic activity combined with glacial movements. Landmarks such as Fjaðrárgljúfur canyon and the Laki craters can also be found nearby.
The name "Stjórnarfoss" can be broken down to "Stjórna," referring to the river it stems from, and "foss," which means waterfall in Icelandic. The clear, clean waters of the Stjórnar river originate from the moorlands of Kirkjubæjarfjall mountain.
How would you like to see Stjórnarfoss for yourself?
Come along
! ♥
Do you know how to save puzzles for later?

If you want to save a puzzle for later, you can bookmark it, and it will stay in your bookmarks – waiting for you ☺