My Christmas cake 2020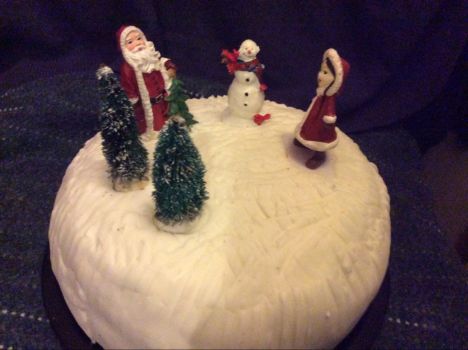 Why are you reporting this puzzle?
This is a traditional English Christmas cake made using a recipe which I have used for nearly 50 years. It is full of fruit, raisins, sultanas, currants, chopped dates, glacé cherries which I soak in spiced rum overnight before making the cake. You could use brandy or a mixture of rum and brandy. The cake is made by creaming Together butter and dark brown sugar, adding eggs, plain flour, a little salt, cinnamon and grated nutmeg and black treacle, folding in all the fruit and more rum, sherry or fruit juice. It is then baked slowly for several hours. If you make it early enough you are traditionally supposed to store it in an airtight tin and add rum to it each week turning the cake top to bottom each time. Then you wrap the sides and top with marzipan and finish it with royal icing or fondant icing. I cheat and use ready to roll fondant icing. It is delicious with tea, coffee or, my favourite, hot ginger and lemon with honey.