McLaren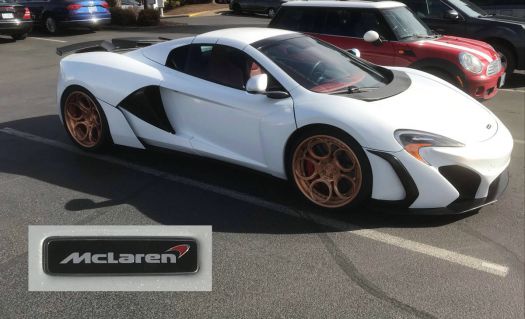 Why are you reporting this puzzle?
I'm not a car guy, but this one caught my eye (especially those wheels!). Because of my automotive ignorance, I'd never heard of the McLaren before. It turns out they're fairly rare, and rather expensive!

From Jalopnik.com, here's a great excerpt. It's not about this specific model, but it still gives you some idea about the brand:

"Here's a hint as to the base price of the new McLaren 650S: if you sell your house and your children, and you start up an ingenious hedge fund now, you might be able to afford it in a few years. Maybe.

Here's another hint as to the base price: it's $265,500.

And that's for the coupe..."

Later on, I happened to see the owner getting into this car. He told me they're pretty rare, and to his knowledge there are only two McLarens in the entire state - his and one owned by a professional athlete. He can't find anyone local mechanics qualified to work on it, so he has to take it several hundreds of miles away to get it serviced!

When he drove away, the car rumbled like a drag racer combined with a jet engine!

Not being a car guy, that all seems like too much hassle for me, but the owner sure seemed to love this car!