India 2017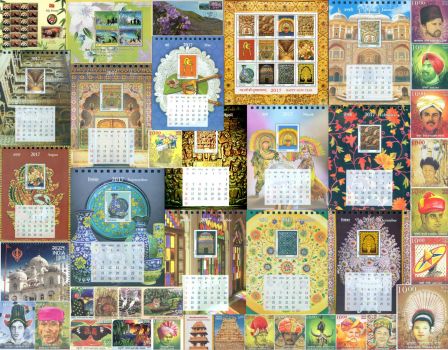 Why are you reporting this puzzle?
Clothing in India changes depending on the different ethnicity, geography, climate, and cultural traditions of the people of each region of India. Historically, male and female clothing has evolved from simple like kaupina, langota, dhoti, lungi, sari, gamucha, and loincloths to cover the body to elaborate costumes not only used in daily wear, but also on festive occasions, as well as rituals and dance performances. In urban areas, western clothing is common and uniformly worn by people of all social levels.

In India, women's clothing varies widely and is closely associated with the local culture, religion and climate. Traditional Indian clothing for women in the north and east are saris worn with choli tops; a long skirt called a lehenga or pavada worn with choli and a dupatta scarf to create an ensemble called a gagra choli; or salwar kameez suits, while many south Indian women traditionally wear sari and children wear pattu langa. Saris made out of silk are considered the most elegant. Mumbai, formerly known as Bombay, is one of India's fashion capitals.

In many rural parts of India, traditional clothing is worn. Women wear a sari, a long sheet of colourful cloth, draped over a simple or fancy blouse. Little girls wear a pavada. Both are often patterned. Bindi is a part of women's make-up. Indo-western clothing is the fusion of Western and Subcontinental fashion. Other clothing includes the churidar, gamucha, kurti and kurta, and sherwani. The salwar kameez is the traditional wear of women in Punjab, Haryana and Himachal Pradesh and is called the Punjabi suit which is most common in the northwestern part of India (Punjab region). The Punjabi suit also includes the "churidaar" and "kurta" ensemble which is also popular in Southern India where it is known as the "churidaar".

For men, traditional clothes are the Achkan/Sherwani, Bandhgala, Lungi, Kurta, Angarkha, Jama and Dhoti or Pajama. Additionally, recently pants and shirts have been accepted as traditional Indian dress by the Government of India. The Indian turban or the pagri is worn in many regions in the country, incorporating various styles and designs depending on the place. Other types of headgear such as the Taqiyah and Gandhi cap are worn by different communities within the country to signify a common ideology or interest. You can see examples of different styles of men's turbans in the stamps on the right side of the puzzle. The Dastar, also known as a pagri, is a turban worn by the Sikh community of India. Is a symbol of faith representing values such as valour, honour and spirituality among others. It is worn to protect the Sikh's long, uncut hair, the Kesh which is one of the Five Ks of Sikhism.