Henri de Toulouse-Lautrec (French, 1864–1901), Princeteau dans son Atelier (1881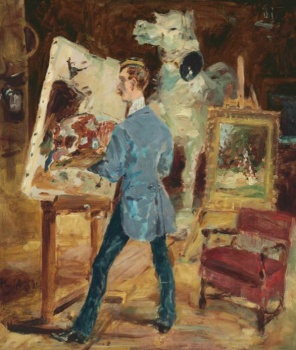 Why are you reporting this puzzle?
Oil on canvas
21 1/4 x 18 in (53.8 x 45.8 cm)

Christie's lot essay (references deleted):

In 1881, at the age of seventeen, Toulouse-Lautrec left his family home in Céleyran and arrived in Paris to embark upon a career as a painter. He entered the atelier of René Princeteau, a successful painter of horses and hunting scenes who was friendly with the Toulouse-Lautrec family. The young, aspiring artist had known Princeteau since 1872; the family's Parisian lodgings at the Hôtel Pérey were near his studio. Toulouse-Lautrec visited Princeteau's studio on various occasions in 1878 and 1879. On these visits, he would make copies of Princeteau's pictures and seek general, informal instruction. However, in the spring of 1881, he made up his mind to move to Paris to study with Princeteau full time.
Toulouse-Lautrec and Princeteau had a shared love of animals and horses in particular. The elder artist was well regarded for his paintings of animals in silhouette, such as the one we see him working on in the present canvas. While under his instruction, Lautrec adopted Princeteau's nimble technique, emulating the sense of vitality, speed and movement found in his loose, expressive brushstrokes. Anne Roquebert has written about Lautrec's work from this period, "He already possessed his characteristic manner of drawing: energetic, though sometimes lacking in respect for reality. With its vigorous brushwork, his painting–like Princeteau's–was both brilliant and informed. Princeteau's teaching bore fruit: from now on, indeed, the pupil was to surpass his teacher" . . . . In the present work, Lautrec's depiction captures Princeteau's buoyant manner, the vigorous freedom of the scumbled brushwork reflecting his instruction.

The young artist painted two portraits of his esteemed teacher in 1881. . . . In both canvases, Princeteau is shown in his studio surrounded by the tools of his trade. In these depictions, Lautrec's admiration for his teacher is evident. Despite the apparent chaos of his studio, Princeteau remains a dignified gentleman, his posture perfectly upright and his stance stoic. As David Sweetman writes, "Princeteau was about thirty-nine when he came into Henri's life. To the boy, he was everything an artist should be—tall, elegantly turned out and well-liked by Alph and his fellow hunters and riders—though the true source of their friendship was more private". . . . Princeateau was born deaf, and although he taught himself to lip read and speak to some degree, his art served as his greatest refuge. This must have created an instant bond for Lautrec, who suffered from a severe physical disability. As Sweetman explains, "Here was someone who had suffered and won through and as the boy increasingly used drawing and painting as an escape from pain and isolation, it was understandable that he should turn to a kindred spirit, for reassurance and advice". . . .

There was a genuine intimacy between the two artists, and they would remain friends and allies long after Toulouse-Lautrec had distanced himself from Princeteau's commitment to hunting and racing scenes. Although Toulouse-Lautrec does not include himself in the present depiction of his revered master, he makes reference to his own place in the atelier through the easel at right of a decidedly lower height. This arrangement is also found in the lively sketch the artist drew on a letter home to his uncle Charles, in which he depicts himself working alongside Princeteau, under which he includes the lively caption "Prophête!!! Prophête!!"
How does the notifications system work?

When you hold an account on Jigidi, you will receive notifications when someone tags you, upon a new comment on a puzzle you follow and upon new puzzles from a puzzle creator you follow.