Hippolytus Finds The Nubile Nymphs Of Nether-Nether-Bonga.....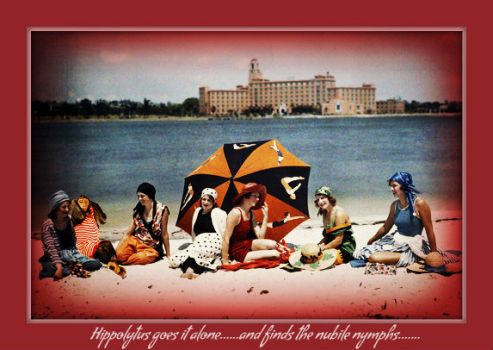 Why are you reporting this puzzle?
In a breakthrough worthy of the exploits of history's most famous explorers, the intrepid Hippolytus has broken free from the clutches of his former travelling companion, Pee-Le-Squirt, and has found the fabled nubile nymphs of Nether-Nether-Bonga!........
They reside in that big building across the lake, and have welcomed our hero with open arms.........
With this discovery, our previous assumptions about the desolate, deserted, desert region have been turned on their head, and it is not beyond reason to imagine Nether-Nether-Bonga as the future St.Tropez...........
When questioned about the whereabouts of Mr.Le-Squirt, Hippolytus told us that he decided to go it alone after being subjected to endless squeezings, as Le-Squirt was desperately seeking water.......
Hippolytus says he will be staying with the nymphs for 'the foreseeable future'.....
Mr.Le-Squirt is lost in the desert........