Jack in the Box's Breakfast Jack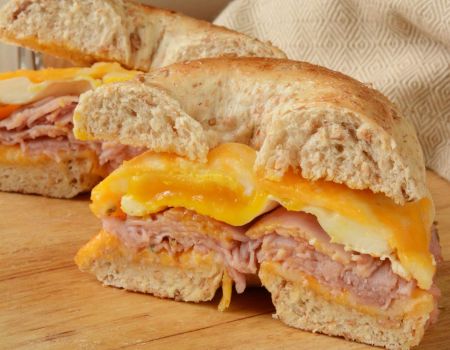 Why are you reporting this puzzle?
From an article, "The 12 Best (and 12 Worst) Fast-Food Breakfast Choices" from the 2BStronger website.

They list, for example:

Best: Dunkin' Donuts Veggie Egg White Flatbread
Worst: Dunkin' Donuts Sausage, Egg and Cheese Sandwich

Best: Starbucks Spinach Feta Breakfast Wrap
Worst: Starbucks Spicy Chorizo, Monterey Jack and Egg Breakfast Sandwich

Best: McDonald's Egg White Delight
Worst: McDonald's Big Breakfast With Hotcakes

Best: Jack in the Box Breakfast Jack
Worst: Jack in the Box Meat Lover's Breakfast Burrito

"If you're headed to this West Coast classic establishment, keep your order simple and (relatively) healthy by ordering the Breakfast Jack. While the Breakfast Jack doesn't offer any huge nutritional benefits — it's just ham, egg and cheese on a bun, after all — it's moderately low in calories, at 350 per sandwich. The fillings also supply enough protein to add up to 16 grams per serving, and the sandwich is very low in sugar, with only four grams in total."


To see the full article, which includes Taco Bell, Burger King, Jamba Juice, Panera Bread, Subway, and Chick-fil-A, click on the link below.

For most, they give the run-down on calories, fat, sodium and sugar.